Meet Bill and His Family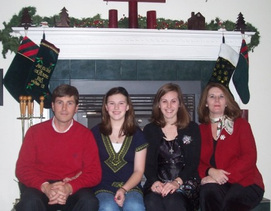 The Holtzclaw family moved to Madison Alabama in 1999. Bill and Pam met in high school and have been married for 27 years. They have two daughters; Abby, a 10th grader attending Madison City Schools and Sydney, a 2008 Bob Jones High School graduate and a 2012 graduate from The University of Alabama. The Holtzclaw family worships at Asbury United Methodist Church in Madison. Bill was born in Elaine Arkansas in 1964. He was orphaned at birth and lived in a United Methodist Children's Home in Little Rock until he was adopted at age 5. Bill was raised by a loving family in Northeast Arkansas who grounded him in Christian principals. He enlisted in the Marine Corps after he was graduated from Jonesboro High School in 1982.
---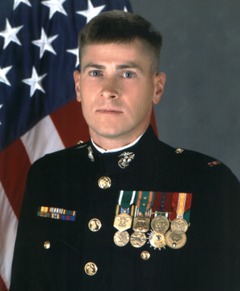 Military Service - Bill retired from active duty in 2003 as a Chief Warrant Officer with 20 years of service. He started his Marine career at boot camp in San Diego CA. After earning the title Marine he was assigned to the Ammunition Technician School at Redstone Arsenal in Huntsville Alabama. Bill served 13 years as an enlisted Marine, rising to the rank of Staff Sergeant (E6) before being selected to the Marine Corps Warrant Officer Program in 1996. As an enlisted Marine he served two combat tours: In 1991 during Operation Desert Storm and in 1992 – 1993 during Operation Restore Hope, in Mogadishu, Somalia. In 1999 he moved with his family to Madison to serve as the Officer in Charge of the Marine Corps Ammunition School on Redstone Arsenal. Bill started at this school in 1983 as a Private, and 16 years later returned as the Officer in Charge. His service included tours in Okinawa Japan, 29 Palms California, and Camp Pendleton California. Peace time deployments include operations in Korea, Hokkaido Japan, and Quito Ecuador. Bill's primary duties were as an ammunition specialist with varying commands including artillery, Light Armored Reconnaissance (LAR), and ammunition storage facilities. Bill's special duty assignments include service as a rifle and pistol marksmanship instructor while stationed in Japan and California, and as an Anti-Terrorist/Force Protection Officer while stationed in California. Bill received numerous military awards during his 20 year career including the Meritorious Service Medal, the Navy Marine Corps Commendation Medal, the Navy Marine Corps Achievement Medal, the Armed Forces Expeditionary Medal, and the Marine Corps Combat Action Ribbon.
---
After Retirement and Community Service - After retirement Bill worked as an independent consultant for the Marine Corps Program Manager for Ammunition and later for Madison Research Corporation as a Contracts Specialist. In 2006 he obtained his securities license and worked as a Financial Advisor at Wachovia Securities in a team with his wife. In 2008 Bill returned to government service to work as a Contracts Specialist at NASA's Marshall Space Flight Center in the Office of Procurement. In 2008 Bill successfully campaigned for local office as a City Councilman in Madison, Alabama. He served on the City Council from 2008 - 2010, and as the Madison City Council President for 2010. The desire to broaden his scope of responsibility for public service from the municipal level to that of a state level political office was in direct conflict with the Hatch Act for Federal Employees (the Act states that a government employee cannot be a candidate for or serve in a partisan political office). In August 2009 Bill willingly resigned from NASA to announce his candidacy and then launched a 14 month campaign for the Alabama State Senate. Bill currently works part time in Huntsville as an independent consultant, supporting a veteran owned small business doing contract support work for a U.S. Army Program Office.

Education - Bill graduated Summa Cum Laude from Athens State University in 2006, earning a BS in Business with a Minor in Procurement and Acquisition Management. He completed Level 1 of the Federal Acquisition Certification in Contracting (FAC-C) while at NASA and has started a MS in Management program at Florida Institute of Technology.

State Legislative Service - Bill was elected to the Alabama State Senate in November 2010. In 2011, as a freshman legislator, Bill was recognized by The Century Council for his commitment to fighting drunk driving and underage drinking.